This is how you order the MyMoney card
It is easy to make a card order in Netbank, when you have Nordea's access codes. You can order a picture card in Netbank under > Cards > Card editing and renewal
You can order a picture for Nordea Credit, Nordea Gold, Nordea Electron and Nordea Debit cards. The picture cannot be ordered for Finnair Plus Mastercard, Stockmann Mastercard,TUOHI Mastercard or Nordea Electron with the K-Plussa feature.
The price of the MyMoney card is 12 euros per card order. The price is charged in connection with the production of a new or renewed card.
Examples of our picture gallery:
Jalmari Visa Electron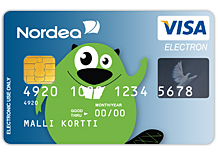 You can now get a picture of Jalmari the Beaver on your Nordea Electron card. The normal production price of EUR 12 is not charged for the Jalmari picture.
Jalmari is available in four colours: purple, blue, orange and green.
NB: You cannot order Jalmari's picture for Nordea Electron with the K-Plussa feature.