How to order a MyMoney card
Order the card easily in the old Netbank with Nordea's access codes.
Log in to the old Netbank using a computer to personalise your card with a picture. Please note that this is not possible on a mobile device.
Here's how to update your card image in the old Netbank:
1. Go to "Cards".
2. Select "Card editing and renewal".
3. Choose the card you want to personalise with a photo.
4. Select "I want to choose a PIN for my card or change the features of my card" on the form.
5. Click "Order a picture" at the bottom of the form. Choose a picture from the gallery and confirm your selection. The rainbow image can be found under the Special category.
6. Select "I have read the card terms and tariff, accept them and undertake to comply with them" and save your card order.
You can update your card image if you have a Nordea Credit, Nordea Gold, Nordea Electron or Nordea Debit card. However, personalised images are not available for Finnair Plus Mastercards, Stockmann Mastercards or TUOHI Mastercards.
The regular price for the MyMoney card is 12 euros per card order. Personalising your card with a picture or changing the current picture on your card is free-of-charge during our Pride-themed card campaign (10 August–13 September 2020). The next time your card is renewed, you will be charged the list price for your MyMoney card.

Try the MyMoney demo pageOpens new window to see what your personalised card could look like.
Examples of our picture gallery:
Jalmari Visa Electron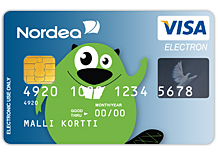 You can now get a picture of Jalmari the Beaver on your Nordea Electron card. The normal production price of EUR 12 is not charged for the Jalmari image.
The character comes in four colours: purple, blue, orange and green.
Please note that the Jalmari image is not available for Nordea Electron cards which include the K-Plussa feature.